Action development & objective 
Dans Le Noir? A light for Africa is an independent program sponsored and funded by private companies to electrify as many schools as possible in Africa. Dans Le Noir? is a private company run by an independent European group based in Paris (France) which employs 50% of blind people without belonging to the protected community. Dans Le Noir ? designed this program by partnering with a French Start-up, Station Energy, which develops individual and collective solar energy solutions accessible through Microcredit mechanisms. Dans Le Noir? financed the equipment of a first school in 2014 in Senegal. Three schools were equipped in Senegal and Côte d'Ivoire in 2015 and Dans Le Noir ? financed 5 schools in 2016. But the objective of this program is to bring together a dozen of partner as companies in order to increase it. Several companies have joined the program in 2015 as AGGREKO, which financed a school in 2015. There is no intermediary association, so there is no management fee. This is a direct sponsorship: 100% of the investment goes on the ground! And the link is created directly between the village and the company sponsor by the teams of Station Energy on site. Dans Le Noir? A light for Africa has set itself the goal of equipping at least 50 schools by the end of 2017.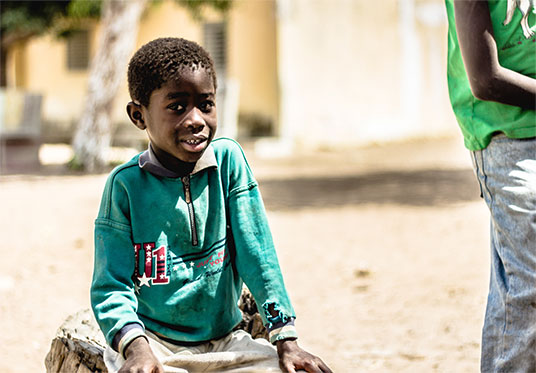 Social impact
The solar electricity equipment of the school has a very important impact in a village. Associated with a minimum computerization of the facility, this equipment significantly improves the education, study and information of the villagers. But also often the health of students, nutrition, access to water. Some isolated projects are also extended to the dispensary's equipment.
The second main axis of this program is the training effect of the equipment of these community buildings on the individuals. By seeing the effectiveness of the devices, villagers often turn to the Micro-Credit solutions proposed by Station Energy in order to develop their activity and lead a whole chain of virtuous development associating in synergy, education, health, food, water , energy, commerce, communication. The access to the mobile phone for example opens a very wide service to the populations like the dematerialized payment of which these economies still suffer as there is little banking system.